If we survive the next 200 years, we should be OK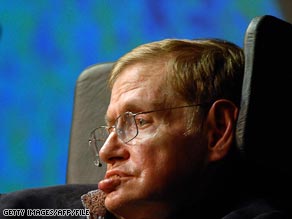 In
an exclusive CNN interview
Professor
Stephen Hawking
lay down his view of our future.
Speaking at Cambridge's Centre for Mathematical Studies, he said: "I see great dangers for the human race. There have been a number of times in the past when its survival has been a question of touch and go.
The Cuban missile crisis
in 1963 was one of these. The frequency of such occasions is likely to increase in the future. We shall need great care and judgment to negotiate them all successfully. If humans can survive the next 200 years and learn to live in space, then our future will be bright."
Hmm. That's interesting and who am I to doubt Hawking? But then again, the interview did remind me of this article I once read '
Look to Inner, not Outer Space
' by Instead of discovering new and interesting things, we have to invent them. This is already happening with online games like
World of Warcraft
and the upcoming
Spore
. We have to admit that the universe is in a relatively steady state on human timescales, and our ability to understand it exceeds its ability to generate new and interesting things on its own. If we want aliens, we have to custom-design genomes and use them to create new entities. If we want bizarre and wonderful
exo-terrestrial landscapes
, we have to build them in virtual reality. Because our voracious minds are already beginning to exhaust what the universe itself has to offer."
Well Good Golly Miss Molly, it ain't easy predicting the future is it?